Braun 799cc-6 | Series 7 | Electric Foil Shaver Review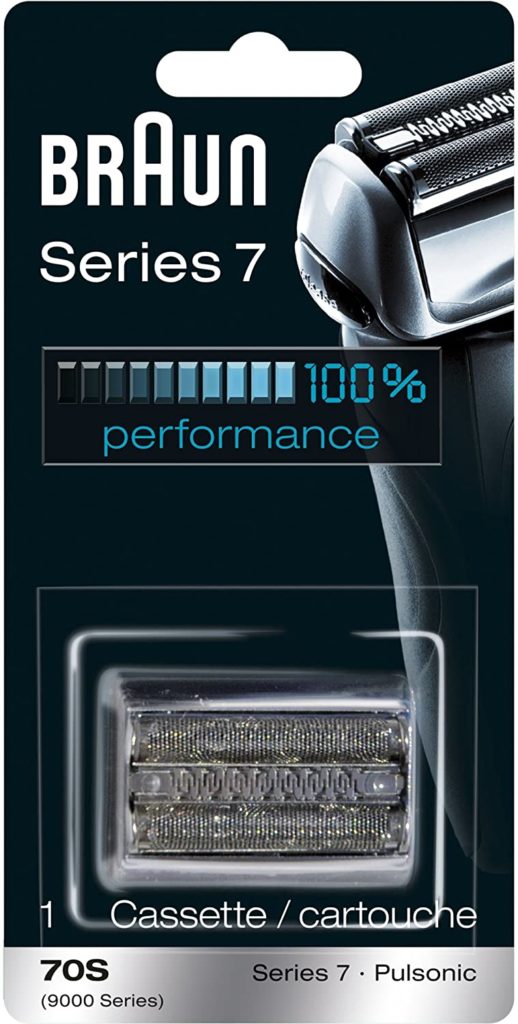 The Braun Series 7 799cc-6 Wet and Dry Electric Foil Shaver is a luxury grade wet and dry electric shaver and considered one of the top-of-the-line models offered by Braun. The consensus among Braun Series 7 reviews seems to be that this shaver is well worth the money, but we wanted to take it for a test drive ourselves and see what we could do. Read on for our complete Braun Series 7 review.
The Basics/In the Box
If you're anything like us, you're going to open the box and be impressed the moment you touch the Braun Series 7 799cc-6 Wet and Dry Electric Foil Shaver. The shaver is made in Germany, and you can feel the quality of its build as soon as you pick it up. The shaver is substantial and finely crafted, but it's remarkably lightweight. Ergonomically designed, the handle fits perfectly in your grasp, and there are non-slip grips along the sides. Even when you're wet shaving you can keep a firm hold on the razor for maximum control. The electric razor comes with the Clean & Renew system stand, a cleaning cartridge, a protective leather travel pouch, a SmartPlug and a cleaning brush, much more than what you get with many other men's shavers. The suggested retail price for this shaver is £329.99, but we found it from top retailers. The price is higher than what you'll pay for other shavers, but as you'll see as we begin to discuss the technology featured in the model, the price is understandable.
Operation and Ease of Use
A number of innovative features have been incorporated in the Braun 799cc-6 Electric Foil Shaver to make this model ultra efficient and highly effective. Using Intelligent Sonic Technology, the head of the shaver vibrates 10,000 times per minute. These tiny movements allow you to move over your facial contours rather quickly without compromising results. The razor features Braun's patented ActiveLift asymmetrical middle trimmer, which moves at 130 vibrations per second in order to effectively cut through hairs that lie flat. In addition, the shaver features the Braun OptiFoil with extra deep, ergonomically engineered openings. The design lets facial hairs travel more deeply into the razor, so the blades cut them much closer to the skin. All of these technologies combine to make this electric shaver very easy to use whether you're facing off with a full beard or just one or two day's worth of stubble.
Results After Shaving
There is truly no way to fault the performance of the Braun 799cc-6. Whether you're using it wet or dry, the shaver is capable of rivaling the performance of a conventional safety razor. If you have very thick growth; you can take advantage of the adjustable modes, set the shaver to intensive, and tackle stubborn growth with ease. The pivoting shaver head ensures that you don't miss tricky spots no matter which mode you're using.
Sensitive Skin?
The Braun Series 7 799cc-6 Wet and Dry Electric Foil Shaver is an excellent choice for any man with a sensitive complexion. The shaver features a Sensitive Mode that provides an extra gentle touch without compromising effectiveness. Because the shaver has an IPX7 waterproof rating, you can use it with shaving creams to further reduce the risk of sensitivity if needed. The lifting action of the shaver even reduces the risk of ingrown hairs by helping to keep trimmed hair from coiling back into the pores.
Battery Life
Inside of the Braun Series 7 799cc-6 Men's shaver is a 3.6-volt lithium-ion battery that can power the razor through 50 minutes of shaving, which is about average for rechargeable shavers. Our tests and other Braun Series 7 reviews confirm that the shaver can be fully recharged in just an hour. After 5 minutes, you can shave your entire face one time, which is convenient if you ever forget to replenish the battery. One unique feature is that the battery doesn't have a memory effect. This means that you can recharge it often without shortening its lifespan.
Cleaning and Care
Another way that the Braun Series 7 799cc-6 Shaver stands out among other electric shavers is in terms of hygiene. The charging station for the shaver doubles as a cleaning stand. When filled with alcohol cleaning fluid, it puts the razor through a four-step Clean & Renew cleaning process that is clinically proven to remove 99.999 per cent of germs that contribute to folliculitis and ingrown hair infections. A fast-cleaning feature is also included that allows you to quickly sanitize the head in just 25 seconds. What's more, the cleaning stand helps to keep the razor lubricated, and it recharges while it's sanitizing. You just don't find technology like this in other razors on the market today. In terms of parts replacement, the OptiFoil and the blades should be replaced every 18 months. Parts are easy to find online.
Special Features
The Braun Series 7 799cc-6 was definitely designed with frequent travellers in mind. The Smart Plug that it comes with is dual voltage, so it can be used anywhere in the world. The travel pouch does an excellent job of protecting the razor on the go.
Final Thoughts
In conclusion, based on our Braun Series 7 Shaver review, we can confidently say that this electric shaver is well worth the selling price. The cleaning stand, the advanced battery and the sonic technology all make this shaver one of the best ones we've ever reviewed. It really can be a beneficial electric razor for any gent, but it is especially ideal for men who travel frequently, are prone to folliculitis and ingrown hairs, have extra sensitive skin or struggle to get good results with electric shavers due to thick beard growth. The build quality and German craftsmanship lead us to conclude that this shaver will outlast cheaper models, too, making it a smart investment.
Compare this Shaver to others below:
*All ratings out of 5 (/5)
*Ratings may be refined as we continually use the shaver, for more accurate results.
We only review the very best and most popular shavers on the market. We can recommend all shavers listed above as great purchases.