Braun Series 9 9095cc | Review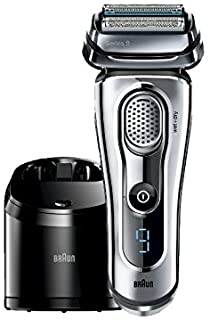 The Braun Series 9 9095cc is one of the top-of-the-line men's electric shavers produced by Braun, and it's been receiving rave reviews online. We were naturally anxious to give this wet and dry shaver a try for ourselves, so we got our hands on one and took it for some shaving test-drives. Read on for our full review of the 9095cc.
The Basics/In the Box
As previously mentioned the Braun Series 9 9095cc Men's Electric Shaver is a wet-dry shaver that can be used for both lubricated and dry shaves. You can appreciate the quality of the shaver the moment that you take it out of the package and feel its solidly constructed, yet lightweight handle. The perforated texture on the housing allows you to keep a comfortable grip, and the shape fits perfectly into your hand.
With the Series 9, you receive a charge and clean station, a cleaning cartridge, a smart plug, a cleaning brush and a genuine leather travel pouch. The shaver retails for £329.99, but we were able to find it at price points on Amazon. At that price, the shaver offers incredible value due to its many features.
Operation and Ease of Use
The head of the shaver features an exclusive new technology called SyncroSonic Technology. Instead of having four identical blades, this foil shaver has three distinct cutting elements: the direct and cut trimmer that pushes hairs into one direction for easy cutting, a HyperLift and cut trimmer that raises flat hairs and two Optifoil blades that draw in even the finest of stubble and cut it away. Throughout operation, the shaver produces sonic vibrations that allow it to produce 40,000 cross cutting movements every second. All of these features combine to make the Braun Series 9 9095cc very quick and simple to use. The head is adjustable through five positions and can be locked if desired for precise shaving action. Even on the hardest trim areas of the face, the shaver makes whisking away facial hair an effortless task.
Results After Shaving
In both wet and dry shaving tests, the Braun performed incredibly well. The shaver is capable of producing a perfectly close shave, not just on one-day stubble, but even if you allow your beard to grow for up to 3 days. We experienced this firsthand in our testing, and the shaver was also verified to work on 3-days' worth of growth by the IPI Institute of Germany.
Sensitive Skin?
Because the 9095cc electric shaver uses a multi-step system to provide a close shave, there is very little risk of irritation, and hairs are not cut into the pores, reducing the risk of ingrown hairs. Men with sensitive skin should be able to use the foil shaver without experiencing inflammation, especially with added lubrication from a high quality shaving soap or foam.
Battery Life
The Braun Series 9 provides about 50 minutes of continuous shaving on a full charge. This is a little shorter than some other shavers, but it only takes an hour for the electric shaver's battery to be fully recharged, so it's really not much of an issue. The handle has an LCD display screen that tells you the precise number of minutes of shaving left until you need to charge for maximum convenience.
Cleaning and Care
Keeping the shaver hygienic is a very easy task. The shaver is waterproof up to depths of 5 meters, so you can easily rinse it after use at the sink, and it's safe to utilise in the shower. The included cleaning station uses an alcohol solution to disinfect the shaver, which helps to keep the head free of germs. As a result, the shaver is a great choice for men who suffer from folliculitis. Cleaning takes about 45 minutes.
Maintainance is easy. The cleaning and charge station cartridges need to be replaced every eight weeks. Every year, the shaver head needs to be replaced as well. Parts are easy to find online.
Special Features
The Braun series 9 9095cc has a number of features that make it convenient for travelling. The shaver features dual voltage technology for use in the UK, the EU, Australia and North America, and it comes with a genuine leather travel case for protection on the go. In addition, the model has a travel lock that keeps it from turning on in your luggage.
A precision trimmer is also included in the design for facial hair and sideburns. We found it to be one of the easiest to maneuver to get even cutting results.
Final Thoughts
In conclusion, based on our Braun Series 7 Shaver review, we can confidently say that this electric shaver is well worth the selling price. The cleaning stand, the advanced battery and the sonic technology all make this shaver one of the best ones we've ever reviewed. It really can be a beneficial electric razor for any gent, but it is especially ideal for men who travel frequently, are prone to folliculitis and ingrown hairs, have extra sensitive skin or struggle to get good results with electric shavers due to thick beard growth. The build quality and German craftsmanship lead us to conclude that this shaver will outlast cheaper models, too, making it a smart investment.