Philips SensoTouch 3D RQ1250 SensoTouch 3D Shaver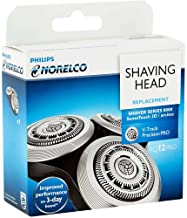 The Philips SensoTouch 3D RQ1250 comes from the most advanced Philips series yet. The series 9000 has advanced contour detecting technology that adapts to your faced perfectly. The SensoTouch 3D has received many great reviews online. So, we tried this shaver out to see how it performed. Keep reading for more.
The Basics/ In The Box
In the box, you get, the Philips SensoTouch 3D RQ1250 which has an ergonomic design that looks very stylish. You will notice there are curves and grooves at the back of the shaver where your hand fits comfortably. This is for extra grip and making you feel more in control of your shave. It is light and well balanced in terms of weight and you can hold it for long durations with no problems to your wrist. This shaver also comes with a charging stand, Travel Pouch, click on Beard Styler, Pop-up Trimmer, Cleaning Brush, Protection Cap, Power Adapter, A 2-year guarantee and an Instruction Booklet.
This being the most advanced shaver from Philips it has a steep recommended retail price of £350 but you can get it for less than £200 here.
Operation and Ease of Use
The Philips SensoTouch 3D RQ1250 incorporates the GyroFlex 3D technology on the shaver heads. The GyroFlex 3D is highly flexible and automatically follows the contours of your face. This shaver also has a dual blade system where the first blade lifts and the second blade cuts for a closer shave. The shaver head clips onto the top of the shaver, this gives it even more flexibility as it isn't fully attached to the shaver. The shaver is fully sealed and waterproof letting you choose between a refreshing wet shave or a smooth dry shave. This shaver also has Ultra track shaver heads which have three channels for normal hair, long/flat laying hair and short stubble. So, you get a closer shave and skin irritation is minimised. There is a 5 icon LED display showing you information such as battery life, cleaning, wet mode etc.
Results After Shaving
After shaving with the Philips SensoTouch 3D RQ1250 you can tell the GyroFlex 3D technology really does align well with the contours of your face. With this you don't even have to put much pressure whilst shaving, meaning less friction and less irritation. When using dry make sure to make rotating movements for a more comfortable and close shave. When using, this shaver wet with foam or gel make sure to wet your face. This softens the hair and lets the shaver glides effortlessly on the foam or gel. We found that with this shaver using hot water works good as heat allows the pores to open and the hairs to come out, this makes for a much better and polished shave.
Sensitive skin?
The Philips SensoTouch 3D works amazingly for sensitive skin. The GyroFlex 3D RQ1250 follows the curves and edges of your face so pressure and irritation is minimized. This shaver also has a feature called SkinGlide this causes the shaver to operate at a low friction. This feature makes it so the shaver glides smoothly along your skin for a comfortable shave. For extra comfort, you can use foam or gel and they work well with this shaver. If you do this just remember to keep your face wet so the shaver can slide effortlessly across the foam or gel.
Battery Life
The battery life of the Philips SensoTouch 3D RQ1250 last around 50-60 minutes and it has a charge time of 1 hour. It does have a quick charge option, for a 5-minute charge you get one use and that's plenty of time to get a good shave. This is quite handy if you find yourself in rush with a shaver that has no charge. Hopefully you won't have that problem because this shaver also comes with a charging stand, making it easier to put away after a shave and have it charged for the next use.
Cleaning and Care
Cleaning the Philips SensoTouch 3D is very easy especially since the shaver head is detachable from the shaver itself. To get the hairs out your just simply lift the shaver heads up and run it under a tap, it's quite simple and doesn't take any time at all. You can also you the cleaning brush that come with this shaver. You can clean out hairs better with the brush and keep the blades in good condition.
Special Features
The shaver comes with a pop-up trimmer you just slide out with ease behind the shaver, good for cutting sideburns and moustaches. It also comes with a neat travel pouch for whne you are travelling. The case protects the shaver and the blades keeping them in pristine condition.
Final Thoughts
This is truly one of the top shavers on the market. Because of its GyroFlex 3D system you get a shaver that adapts to your face perfectly. The Ultra track shaver heads get rid of all your hairs in just a few strokes. Compared to previous models it cuts hair much better, it more gentle and shaves problem areas very well. Some may be turned off from seeing the price but this shaver is worth every penny. As it performs amazingly and gives you the close shave you want leaving your skin feeling comfortable for the whole day.