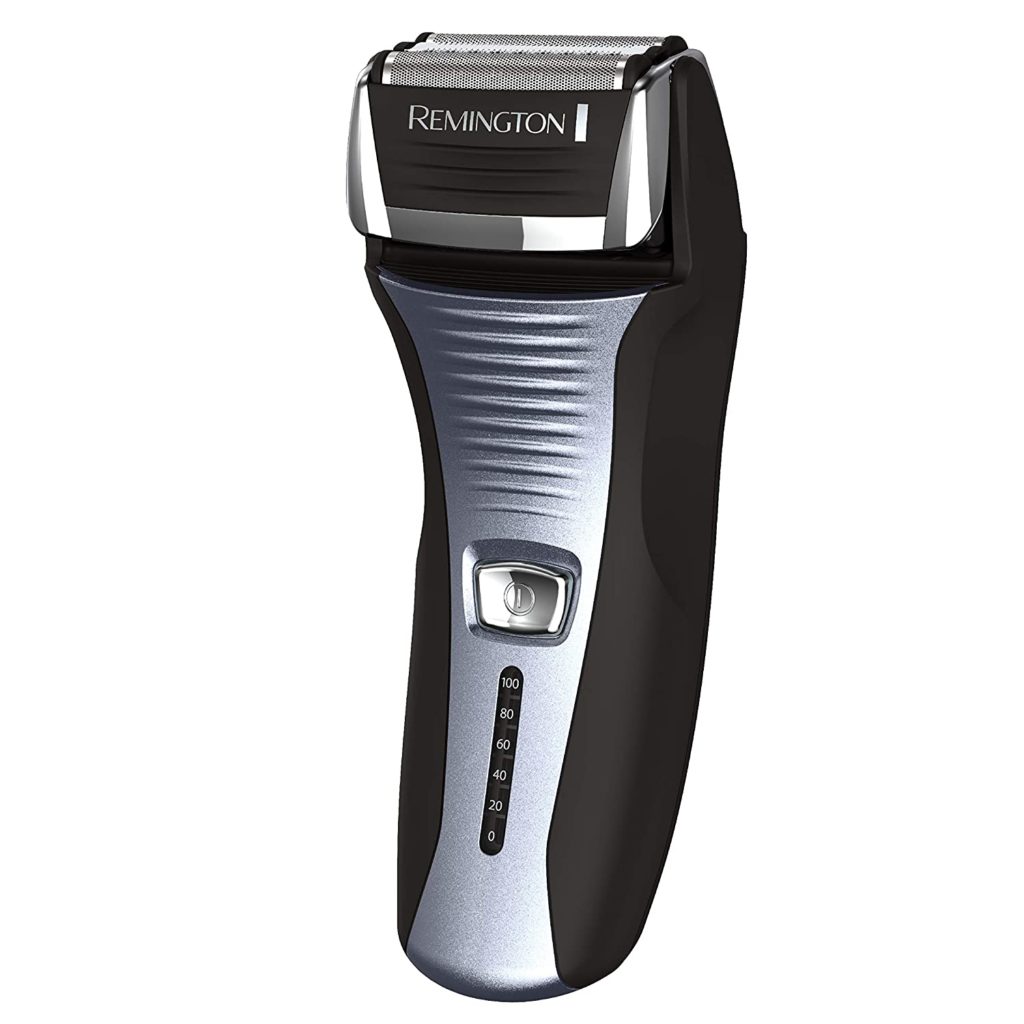 Remington F5-5800 Review
 The Remington F5-5800 Shaver is a traditional handheld shaver that has been on the market for some time now. We finally had the chance to take one for a test drive to evaluate its performance, efficiency and ease of use. Read on to see our full Remington F5-5800 review based on our extensive testing.
The Basics/In the Box
When you unbox the Remington F5-5800 Shaver, you can instantly feel that it's well designed. While the shaver does have the same basic shape as most foil models, Remington has placed some nice indentations along the sides near the head, so that you can get a firm hold on the shaver. There are also some ribs along the handle that reduce slippage while you shave. That's a feature you don't see in many other models that makes the model stand out. A head guard and the charging and power cable comes inside the box. The suggested retail price of the Remington F5-5800 Shaver is $44.99, but we found it being sold on Amazon. This makes the shaver one of the least expensive of its kind on the market, and definitely one of the most economical options that are built so solidly.
Operation and Ease of Use
The Remington F5-5800 Shaver has two blades that are constructed out of surgical grade stainless steel. The model has what Remington calls Pivot and Flex Technology, which means that not only is the head adjustable as you shave, but that each foil also moves independently. As a result, the shaver hugs every contour of the face as you shave. The technology does make shaving rather simple. You can move the shaver at a moderately fast pace without leaving behind any stubble. It's also rather lightweight, making it simple to maneuver in tricky spots.
Results After Shaving
Overall, we were impressed with the results from the Remington F5-5800 Shaver. The shaver was able to provide a clean shave similar to a conventional razor when removing one or two day's worth of growth. Because of the Pivot and Flex technology, shaving results are even with no missed spots even under the nose and along the jaw. It's worth nothing that this shaver likely wouldn't be the best choice for shaving off a full beard. We would recommend trimming with scissors first at least. For everyday use, though, this shaver provides good to very good results, and will perform better than most foil models that are similarly priced.
Sensitive Skin?
The Remington F5-5800 Shaver doesn't have any advanced features to make it gentle to sensitive skin, but based on the results that we enjoyed with the razor, we don't foresee that it would be too harsh for a gent who is prone to sensitivity.
Battery Life
On a full charge, the Remington F5-5800 Shaver can be used for 60 minutes, so it has a longer per-charge lifespan than some other models on the market that are similarly priced. There is an easy-to-see LED power display on the handle that makes it clear how much battery life remains. If you do forget to charge, you can operate the shaver while it's plugged into the mains.
Cleaning and Care
With an electric shaver of this price, you don't expect to get a lot in the way of accessories, but the Remington F5-5800 Shaver doesn't even come with a cleaning brush. Fortunately, the razor is rinse-able, so it's still rather easy to clean to maintain good hygiene. Keep in mind, though, that it's not waterproof. You don't want to use it wet or in the shower or tub, and it's important not to submerge it in water. The shaver isn't difficult to maintain. Remington recommends changing the blades and the foil just once every 6 months, and we were able to easily find the required parts online.
Special Features
The Remington F5-5800 has a built-in pop-up trimmer, which comes in handy for trimming sideburns, eyebrows and facial hair. There are no other flashy features included in the design, but that's rather common with a shaver that's sold for such a low price.
Final Thoughts
Overall, the Remington F5-5800 Foil Shaver is an efficient, nicely designed shaver that is ideal for a man who wants a more economical way to control his beard. While it doesn't have all of the flashy features of a higher-end foil shaver like the Braun Series 7 799CC-6WD CC4 or the Panasonic ES-RF31-S, it sells for a fraction of the cost. You really won't find a foil style shaver in this price range that works better. Remington warranties the shaver for 2 full years as well, so we have no doubt about its quality. We are able to recommend the shaver as an inexpensive option among foil shavers without reservation.
Discount Price check:
Compare this Shaver to others below:
*All ratings out of 5 (/5)
*Ratings may be refined as we continually use the shaver, for more accurate results.
We only review the very best and most popular shavers on the market. We can recommend all shavers listed above as great purchases.
Related Posts: